If you want to check out maps I've done previously, take a look at the maps page. I've recently released my latest deathmatch map Spare Elbow. It's quite small, being designed for fast furious 1-on-1 play. Grab it and let me know what you think

Mr. Shambler of TEAMShambler Quake level reviews recently dug up my first map Escape from Actaltraz and wrote a glowing review on it. This inspired me to start a new map which I have a couple of shots of below...
I'm currently working on another DM map and a new SP adventure. I haven't got a name for either yet, but I never usually think of a name I like until it's nearly finished. Ok, here's a couple of (early) screenshots of my next single player map, as yet unnamed: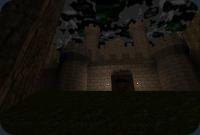 As you can see, it's set in a castle. I know this theme has been done over and over, but I'm trying to design this place to inspire a feeling of grandure - I won't release it if I think it's going to turn out 'just average'.
Absolutely anyone who is still into Quake(1) DM, particularly mappers, should stop by at Headshot's new qBoard. This looks like it is going to be an outstanding resource for all aspects of Quake DM and is regularly posted to by all the 'big name' authors.